If you thought that Dubai is good only as a shopping destination, then think again. Dubai today looks quite close to your fantasies of Heaven on Earth. Be sure to see the best of architecture, the latest state-of the-art facilities, the best hygiene and sanitation, the best deals in the market, the friendliest people, and the safest travel destination. When time is short, and you wish to cover the city and its adjoining areas of Abu Dhabi, Sarah and Ajman all in three days flat, do not think that you are thinking the impossible, even in the harshest of the summers. Be sure though, to always carry your must-haves. Sunglasses, sunscreen, water and a sun hat or scarf, should you be travelling in the months of May to August. Dubai is often scorned by the ignorant and uninitiated as a place boasting only of malls. However, when you set out to actually see these malls, they come across each as different as different can be.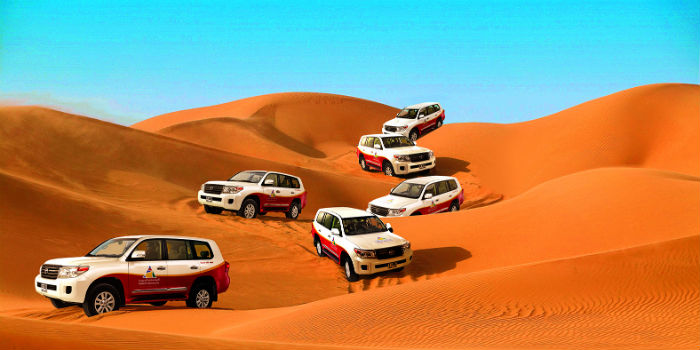 A good place to start with would be Kanata-al-Kasbah, located in Sarah. This comprises continental style promenade, reminiscent of a walk down the promenade along the River Seine in Paris. Alongside, one comes across several desert safari deals and glamorous shops. In the weekends, which happen to be Thursday nights to Saturday, one can see families leisurely dining in the several eateries, which have open-to-air options. Children of all ages can be found here, skating, playing, getting soaked in the fountains, eating ice-cream., while their parents enjoy a little bit of adult company themselves. At night, this place literally comes alive, with interesting lighting effects, which bring out the best of the architecture of the place. Boat rides along this canal are very popular too.
Kanata-al-Kasbah has now metamorphosis into a commercial and cultural hub, and is often referred to as The Eye of the Gulf. Very near the Dubai International Airport, is the famous Bin Battue Mall, which is modeled along the lines of the famous traveler of the middle ages, Bin Battue and his explorations? Hence, this mall is both exciting and educative. Each section of this lovely and fascinating mall follows the travel route undertaken by Bin Battue, and hence, the shopper gets a feel of various cultures and countries, as he shops. The food courts offer a wide variety of lip smacking food. Iranian, Lebanese, Greek, Chinese, Thai, Indian, Mexican. Interestingly, the ceiling of the mall assumes the colors of dusk, even though a fierce mid day sun may be beating on the outside of it.